Looking for the Best Photo Editing Software for Macs? Look Nowhere else. Photo editing software is a necessary evil for any photographer, but it can also be a daunting task to find the right program. Luckily, there are many great options out there, making it easy to find the perfect program for your needs.
Macs, or Macintosh computers, are a line of personal computers designed, developed, and marketed by Apple Inc. They run the macOS operating system, which is specifically designed for use on Macs.
Macs are known for their sleek design, powerful hardware, and user-friendly interface. They are popular with both consumers and professionals, including graphic designers, video editors, and developers. Macs come in a variety of models, including desktop computers and laptops, and are available for purchase from Apple and authorized resellers. You can read more about Top Five Best MacBooks for Students.
Macs are great for editing photos, but the best photo editing tools tend to be paid software. Fortunately, there are some excellent options out there that do more than just crop and resize your images. In this post, we'll discuss five of the best photo editing software or graphic design software for Macs in detail so you can choose what's right for you — or your loved one who loves taking pictures.
What we looked for in a great photo editor?
Photo editing is a process that can be tedious and time-consuming. However, there are some key features that make a great photo editor. In this article, we'll be discussing the features we looked for when choosing an editor for our photo projects.
User-friendly interface. We want an app that looks good, is intuitive to use, and has a straightforward design. If it doesn't have an intuitive interface, we're not going to use it!
Easy to use. It's also important that the software is easy to understand and operate; if it requires us to jump through hoops just to get started, we'll probably look elsewhere (and probably never come back).
Affordable price tag. While it's true that some of the best software options cost a pretty penny (like Photoshop), they don't all have to be expensive—there are many free or low-cost options available on Macs today—but even though they may be cheap in terms of initial expenses, sometimes these programs can end up costing you more than expected due their lack of features or limited functionality.
We've tried our best not only to find good deals but also ones where you'll get what you pay for without having too much trouble using them later down the road once again…and again…and again over time until finally realize how much money was wasted by buying something else entirely instead!
There are many programs available today that are designed to help people manage their digital lives. Some of these applications are designed specifically for photographers, while others are more general and can be used by anyone who needs to do a variety of things on their computer. In this article, we're going to look at some of the best photo software options available right now.
Our top 5 choices for the best photo editing software for Macs
If you have a Mac and love taking photos, then you know how much time it takes to edit your photos. You can use some of the best photo editing software for Macs that will help you edit your images quickly and easily. Here are five of the best photo editing software options for Mac users:
It's a professional-grade tool that has been used by professionals for years. Photoshop is a powerful program that can be used to edit just about any type of image and offers an extensive set of tools that can be accessed through multiple workflows. The downside to this software is that it is not free and requires an upfront cost before you can start using it on your computer.
This free app from GraphicConverter Systems offers many different features including batch processing (which means converting several photos at once), cropping, resizing, renaming files, and more!
Similar to Adobe Photoshop but with less functionality than its counterpart; however if you're looking for something more affordable or just want something simple then GIMP might be right for your needs!
Apple Photos
Apple's native photo editing software comes built into their operating system. It includes iCloud support so photos edited here will automatically sync across all devices connected with iCloud (including Macs running macOS High Sierra).
Just like Apple Photos but better because it includes more advanced controls like exposure blending which allows users access to how much light they want in each shot while maintaining detail throughout all parts regardless of how bright or dark certain areas may get during the post-production process."
Photoshop is the most popular photo editing software, and it's also the best. It has a steep learning curve, but once you learn the basics it's easy to use.
The beauty of Photoshop is that it can be used for so much more than just photos—graphics designers have been using this program for years because of its versatility and power. You can use it to edit anything from images on your phone or tablet (via Photoshop Touch), all the way up to large prints (via Photoshop Elements).
It comes in three different versions: Photoshop, which costs $9.99 per month; Photoshop CC at $19.99 per month; or Adobe Creative Cloud Desktop & Device Subscription with access to all programs including Lightroom Classic and Lightroom CC for $9.99 per month.
Photoshop is the perfect tool for professional photographers and graphic designers. It's also great for hobbyists who want to take their photos or art to the next level—whether that means cleaning up a photo or making it look like you have an expert eye for lighting and color.
The biggest problem with Photoshop is that it's expensive. While there are some cheaper alternatives out there, none of them come close to the power and versatility of this program. If you're going to spend money on a graphic design tool, this one is worth it.
GraphicConverter is a popular, powerful, and easy-to-use image editing program. It can convert images and edit metadata, batch process files into many different formats, use plugins to add more functionality to the app, open raw files (like those from professional cameras), and open multiple image formats such as JPEGs, PNGs, and TIFFs. Its most useful feature has to be its batch processing functionality: you can choose multiple files or folders at once and apply one action to all of them simultaneously.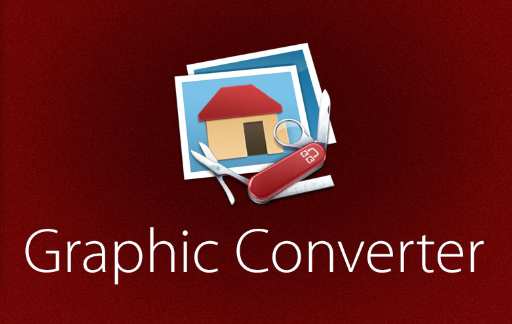 GraphicConverter is a great all-in-one image manipulation tool. It has a wide range of options and capabilities, making it the complete package for anyone who wants to quickly edit photos.
It offers batch processing capabilities that can be used to automate common tasks such as resizing or rotating images, and adding watermarks and borders. Plugins add even more functionality. For example, an EXIF metadata editor allows you to change the information embedded in your pictures so that they display incorrectly on some devices (e.g., phones). GraphicConverter also supports raw files from many different cameras, which means you can open high-quality images without ever needing Photoshop or Lightroom!
The only downside to GraphicConverter is that it's not free. However, the cost of this software is very reasonable and well worth the price
GIMP is an open-source photo editing software that can be used on Mac, Windows, and Linux. It's similar to Photoshop and has many of the same features as Photoshop. The GIMP works by displaying your image in layers, so you can add multiple elements to a photo without losing quality or clarity. You can also use it to create graphics for websites and print materials like brochures, signs, or posters.
While GIMP does have a learning curve for beginners, it's free and includes all sorts of tools that make editing images easier than ever before (including filters, layer styles, and color correction).
GIMP is a great photo editing software for beginners because it's free and easy to use. You can download it from the GIMP website, which offers installation instructions for all three operating systems.
Apple Photos
Apple Photos is a photo editing software for Macs that are integrated with your Mac operating system. It's very easy to use, and it has a simple user interface. Apple Photos offers basic editing features like cropping, rotating, and resizing photos; adjusting exposure, contrast, and saturation; applying filters; adding text to photos; applying color adjustment presets (black & white filter); adding frames to photos; sharing images on social media sites such as Facebook or Twitter when you're finished making edits.
Apple Photos will never compete with Adobe Photoshop or other professional-level image editing apps but it does give you enough options so that even those who are not very tech-savvy can edit their photos easily enough without needing any additional help from an expert in order to achieve great results!
Apple Photos is very easy to use, and it has a simple user interface. Apple Photos offers basic editing features like cropping, rotating, and resizing photos; adjusting exposure, contrast, and saturation; applying filters; adding text to photos; applying color adjustment presets (black & white filter); adding frames to photos; sharing images on social media sites such as Facebook or Twitter when you're finished making edits.
Aurora HDR is a photo editing software for Macs that has been around since 2011 and has developed a loyal user base. The program is known for its ease of use, simple interface, and intuitive features. It has many tools to edit your photos, including exposure adjustment, luminosity adjustment, and sharpness adjustment.
It also lets you adjust the colors of your image with the color balance tool or split toning tool by creating different color effects like sepia tone or blue tone. You can also add some beautiful filters to give your image an unexpected look with just one click! And there's more: you will find two brush modes: masking mode (to hide certain areas) and painting mode (to paint on certain areas).
The software also lets you remove objects from photos, create panoramas, or make a 3D effect. You can also view your images in full-screen mode and save them in different formats (JPEG, PNG, TIFF, BMP.
Closure
As you can see, there is a lot of great photo editing software out there that you can use on your Mac. Whether it's Photoshop or GIMP, these programs are all great options to consider if you're looking for more powerful features than what Photos offers. However, if you just want something simple and easy to use then Apple photos might be the perfect choice for you!
So that's our list of the best photo editing software for Mac. As we said before, there are other options out there, and this is by no means an exhaustive list. However, we think these five pieces of software give you the best bang for your buck, whether that means features or price. Photo editing is something that anyone can do with the right tools at their disposal; all it takes is a little bit of time and patience. So what are you waiting for? Go out there and take some photos!